By: Francisco J. Fernández Díez | Photos: Eric Larrayadieu
Si desea leer este artículo en español, haga click en el enlace
With a forthcoming recording of Johann Sebastian Bach's first book of The Well-Tempered Clavier  Christophe Rousset performs one of the landmarks not only of the music for keyboard, but also one of the landmarks of musical history. In the following lines he will reveal his impressions and opinions about his life as a conductor and performer.
1) Mr. Rousset, how long have you been a professional musician?
I started giving concerts when I was 17; but only considered myself as a professional when I got my diploma in Holland and my international prize in Bruges at 22. It makes now a career of 32 years, as I am 54!
2) How did you become interested in ancient music?
I started being interested in baroque architecture and literature before music. First, I studied piano but it quickly appeared to me that 18th century music spoke to my heart more than romantic and modern.…Well, don't you think that romantic is for grown up people and that Haydn is easier to understand and to play for a teenager than Chopin or Schumann?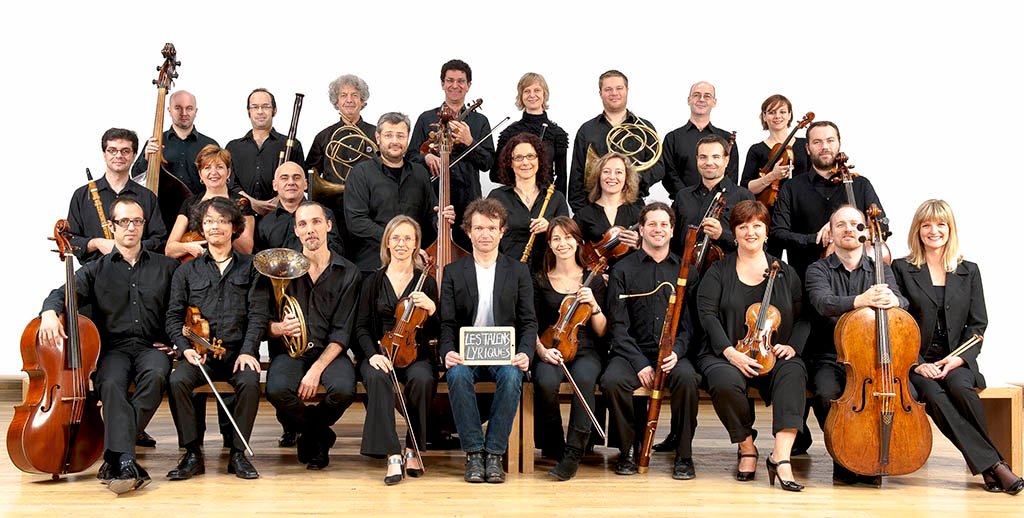 3) What was first: the harpsichordist or the conductor?
Harpsichordist: I started harpsichord at the age of 13, conducting came much later, at 30. Being a conductor was not really a dream to me. As a harpsichordist, I was a musical assistant on operas and very naturally I was asked to prepare choir and orchestra. My first opera production was my 30th birthday present and it was in a mythical venue: l'Opéra Comique in Paris where Carmen and Pelléas et Mélisande were premiered!
4) How long have you been the conductor of Les Talens Lyriques? How did this orchestra started?
I created Les Talens Lyriques the same year: 1991, 25 years ago. It is more an ensemble than an «orchestra». We sometimes perform without orchestra: type small motets or madrigals for few voices and a continuo. We also have chamber music programs. But some projects require a big orchestra, 10 solo singers and a choir. I've also conducted symphonies with Les Talens Lyriques, including Beethoven, but I still play the harpsichord in small forms with my ensemble.
5) What will you consider are your biggest achievements with Les Talens Lyriques?
This question sounds to me a little like asking a mother:»who is your favourite child?» I give my soul and heart to every project and never spare my energy to get the best result possible. I could name Amadis by Lully, because I think we have no weak point in the singer cast. But I could also name Les Danaïdes by Salieri because it's been an incredible challenge of making this music back to life with blood and flesh or La Capricciosa corretta by Martín y Soler because it's been a real fascinating discovery, but I would disown none of my Monteverdi or Mozart or Handel productions.
6) Let's talk about your forthcoming recording of The Well-Tempered Clavier vol. I: How do you feel about it?
It is a nice picture! Why do I say this? Because I think that a recording is like shooting a photo of one special moment on a specific instrument. For this recording, I play an exceptional Ruckers harpsichord owned by the Versailles Castle. I would have played differently on another harpsichord and another moment of my life. Plus the first book of the Well-Tempered Clavier gives no indication of tempo or character – the second neither but in some way, the intentions of Bach are clearer. I don't regret anything of this recording. I like very much listening to my works. Sometimes I think that it would have been nicer if I played this quicker or slower…But on a record we decently can't give more versions of the same piece, can we?
7) So, How do you conceive these pieces by Bach?
I would love to tell you that I discovered the key where you understand through mysterious arcane how you should take tempos, proportions between preludes and fugues and the unity throughout the whole arch… but no! I think romantic views on Bach wanted too much to see the hand of God guiding the hand of Bach. The first book of Well-Tempered Clavier at least is a collection of preexisting pieces with no unity, some preludes were already in Wilhelm Friedemann's Notenbüchlein in earlier versions. Some fugues are transpositions to fulfill the need for Bach to have a fugue in every key. So thinking that prelude x or fugue y or z means this or that because of the very specific key is definitely dubious. The best way I found to conceive these pieces was to be guided by my knowledge of the complete harpsichord works plus quite a few orchestral and choral pieces. At last the intuition of an artist refined by his culture and experience is the best you can expect – hoping that his culture is as big as possible!
8) What aspects do you think this work shows about the soul and mind of Bach?
Book I is clearly more pedagogical. There is no progression of difficulty. But as for his preferred son and pupil Wilhelm Friedemann the preludes teach you so much about style, ability on the keyboard and invention of being a performer. The fugues from 3 to 5 voices are an intellectual training, like gymnastic! It is wonderful for pushing doors and limits you think you (or your student) have. I remember bringing one prelude and fugue of book I every week by heart to my teacher when I was 15: I experienced and remember it was possible. This wonderful training for the brain wasn't available before Bach wrote the Well-Tempered Clavier. Too bad for many generations of harpsichordists! That's what I see about the mind of Bach. He really intended to bring someone to an incredible level of intellectual ability. But about Bach's soul, what can I say? It is a matter of intuition. It is clear that some of the most severe preludes like g sharp minor or b flat minor make you think about the most tragic cantatas. He surely was a very pious man…but also a real man, able to have two wives, many children and a big belly: so I guess he was also able to enjoy life….and virtuosity as in D major or B flat major preludes.
9) What would you consider is the most important thing about this work by Bach?
Find the «right» tempo and character to every single piece: that's to say, you have to be very clear and specific. If you go in a direction then make it clear and have a clear option of interpretation, because the Well-Tempered Clavier is a school for the fingers, for the idea of style (preludes), for the brain (the fugues) and it is also a school of interpretation. You can't fake a «neutral» way of playing – it would be the sign of a weak performer!- you just have to strongly take the material Bach gives to you and through respect and love make a lively and (perhaps) moving version out of it.
10) When performing Bach: what do you consider is the most important thing a harpsichordist must care?
Tell something. Rhetoric isn't an empty concept. Harnoncourt used to say that the big difference between 18 and 19th centuries is that 18th is speaking while 19th is depicting. Harpsichord can be (under rare expert fingers!) very expressive, it was the instrument for which Bach wrote more…together with human voice.
11) Why did you decide to record first the second book and then the first one?
Because I know many of my colleagues starting with Book I and never recording Book II…because it is so much more difficult. It is a global attitude I have in life: I always start with the more difficult. But in the case of the Well-Tempered Clavier I must say that Book 2 is a real achievement, perfection of purpose, form and proportions. A real «Art of the Fugue» before he wrote it. Having achieved the recording of Book 2, Book 1 seems more accessible, friendlier. There are also the most famous pieces in Book 1, all the preludes and fugues you studied in early age.
12) What will you consider is your contribution to this piece? What does this recording have that the previous ones don't?
My major contribution is…myself, I am afraid! Not much, but not less as somebody else. Being an expert of French music and harpsichord make me develop through the years a strong knowledge of how to play my instrument («l'Art de toucher le clavecin» as François Couperin would say) the more you have solutions in your expressive palette the result will be richer. I don't pretend to have done a better version than the previous ones…and I didn't listen to anybody before diving in this ocean. I have a very far remembrance of Gustav Leonhardt's version I listened when I was …18!
13) As a harpsichordist what will you consider are your biggest achievements?
Same answer as before for my orchestral work. But I think my English Suites version is perhaps the recording I prize more … together with the Well-Tempered Clavier book II … and every single other of my recordings!!
14) Many of my readers are pianists and know little about the practice of performing the Harpsichord: Could you tell us which expressive resources you have in this instrument that is certainly different from the piano?
I would need an instrument to show you (or them) how to make a harpsichord expressive. Basically you have to understand what the limits of the instrument are, but also the strengths. Harpsichord was the instrument of Bach, Rameau, Scarlatti, Handel, Haydn and even of early Mozart. If harpsichord sounds boring, empty or unexpressive it can't be the fault of its nature: IT IS OUR FAULT!
15) Finally, any advice for young performers or Musicians?
Love and respect the repertoire you play. Serve the music and not your own image. You should stay a vector or a prism but you are neither the creator, either the inventor. If people come to your concert it is 80% at least for the composer and perhaps 20% for the performer so…stay humble!