By: Francisco J. Fernández Díez – fjferdiez@gmail.com
Photos: Minjas Zugik
Luigi Marchesi is a name that may sound unfamiliar to many modern admirers of opera; however, in his time, Marchesi was one of the most important and appreciated singers in Europe. The large quantity of available material that testify about his art (books, letters, journals, scores, among others) have inspired musicologist Stefano Aresi and mezzo-soprano Ann Hallenberg to join forces to revive the music that was performed by this important figure in the history of singing. In this interview, we will discover more about the process of preparing this recital, and the opinions and experiences of these artists.
Stefano Aresi – Authenticity as a Goal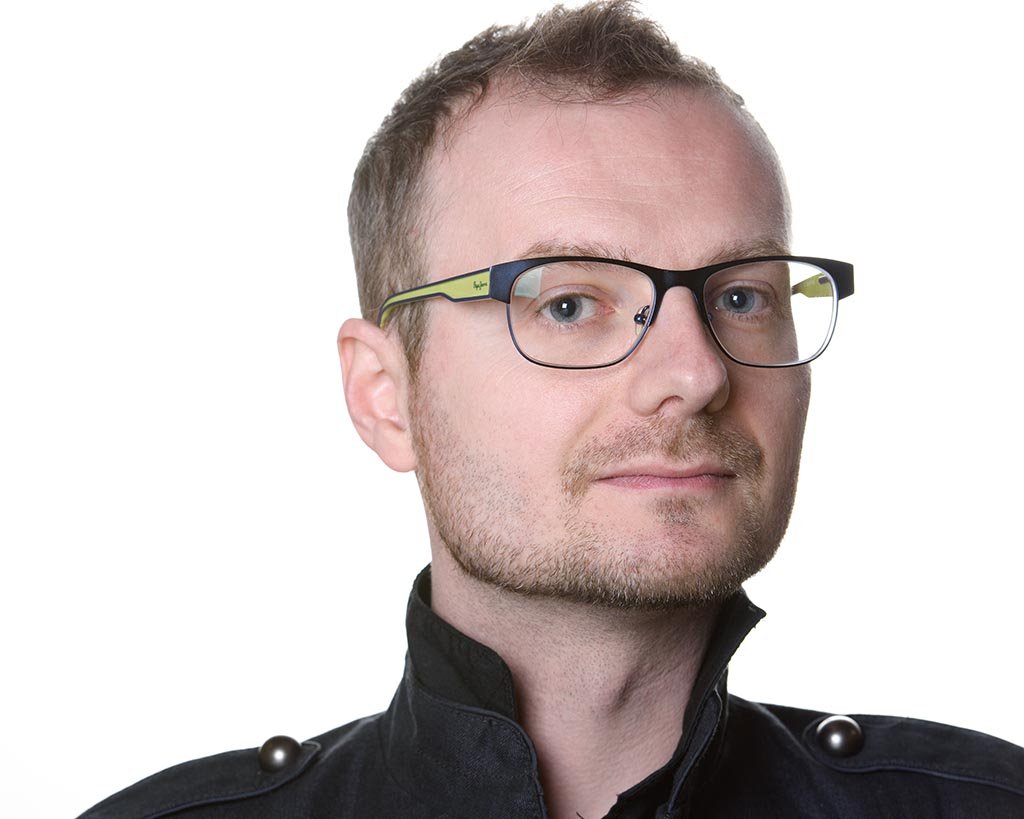 Stefano, you're the conductor and musicologist behind the Marchesi Project. First of all, when did you start with your Orchestra Stile Galante? Also, why early music?
S.A: Why early music? It's easy. My first experience with music was as a choirboy in the parish church of the village where I was born. One of the priests, don Giuseppe Ferri, was a real enthusiastic lover of choir singing, and each Sunday we performed music from Palestrina to Vivaldi, from Bach to Perosi. I was 8 years old, so for me this music was just "new music". Mozart was nobody, neither was Handel; they were just musicians, I could not obviously say when something was written or give a qualitative evaluation of a sheet of music. I was just a child, and some pieces were giving me strong emotions; some others were just boring for me. Over time I discovered that all the music that I was loving and was moving my heart so strongly was written before 1800…So, let's say, for me, early music was, from the very first time, just the music speaking a language I could understand and feel, charming me immediately
Stile Galante was born in 2009 when, after working as a musicological assistant to many ensembles and as an assistant producer or producer to many recordings, I decided it was time to bring to the audience what I was doing as a scholar from a long time. So I had long talks about what I was thinking about 18th century Neapolitan vocal chamber music with some singers (especially with the amazing Emanuela Galli), and then we said: "ok, let's try to do it, let's see if a musicological strong product by a specialist can be also a really good musical product for modern audiences"…and we recorded our first CD with duets for the Passion of Christ by Porpora, very difficult and intellectual music.
Let's talk about the project now: Why did you decide to do a recital devoted to Marchesi?
S.A: Luigi Marchesi was one of the most important singers at the end of the 18th century. He was primo uomo at La Scala and La Fenice, famous and admired in all Europe. But not only that: he was one of the singers representing a tradition in singing and giving it to future generations, he was a bridge between two worlds, working to adapt the idea of "opera singer" during the turbulent changes of his age to new needs and giving form to the taste, acting, and stage presence in the direction of modern opera singing. He was "the voice" of many masterpieces by Cimarosa, Zingarelli, Sarti, Salieri, Anfossi.
Actually, the main reason that encouraged me to work on Marchesi is that we have for some arias and for one recitative an amazing amount of original embellishments, written down by him, by friends or by other musicians to "save" forever his taste and his incredible artistic skills on the paper. Being such a famous star, we also have an incredible number of letters, diaries, newspaper, books, speaking about him and his way of singing. All this documentary richness helps us to build a quite detailed image of his art, and this is possible maybe only for very few singers before the invention of the gramophone. So we can have a singer's portrait unthinkable for other artists of the age of Mozart. Obviously, we cannot have an idea about many important parameters, but there is much more information than we usually expect from documents and sources. I found the idea of bringing it back to life simply dazzling!
Recitals devoted to castrati are really common nowadays; we can mention several that have been recorded since 2010 to present time. In your opinion, what is it about castrati back then that makes them so captivating to audiences still today?
S.A: First. I do not want to think to this project only as a recital devoted to a castrato. This is a marketing fashion, usually not of the best kind and taste. And the results usually are really (really, really) far away from the originals. The Marchesi project was born as a project about a singer, without considering anything else other than his singing style and career: castrato or not, it wasn't the main topic. It's a project about original embellishments, about an esthetic ideal of singing, about north-Italian late 18th century taste.
But, back to your question…If we wanted to talk about why castrati are so captivating for the audience, we could write books. It's impossible to say in a few lines. What I can honestly say is that the 80% of the audience going crazy for castrati simply did not understand anything about this musical and social phenomenon. I suggest you just to read online blogs, Facebook groups or fan forums, and then read and compare that information with source documents about castrati and the high-quality studies by scholars such as Martha Feldman or Roger Freitas (just to quote two of the most important). The main problem is what common people and amateurs think about castrati is actually a postmodernist distortion of a historical phenomenon that lasted more than four centuries. The success of countertenors in baroque opera is the best exemplification of it. Also, I think this general misunderstanding affects (and is strongly connected to) the confusing and pretentious perception we (excluding musicologists studying it) have of opera, of taste, and of gender identity during the 18th century.
As a conductor: What do you seek in a singer? What characteristic should he/she have?
S.A: The question is strange for me. First, I usually ask myself which characteristics the music I have to perform demands to a singer. Then I can choose. And what I seek, after that, is not only a real professional, but a singer who can trust me and say: "ok, let's do it", even if I know that what I ask is completely different from what other people had always asked him/her to do, also if I know that maybe the audience would love it in a different way, or if it sounds "extreme". I'm very lucky: with Stile Galante we had the incredible fortune to work with Ann Hallenberg, Francesca Cassinari, Marina De Liso and Emanuela Galli. They are this kind of singers.
As a musicologist: Was it difficult to build the program of this recital? How was the process?
S.A: This dualism between musicologist and conductor is for me complete nonsense. I'm not a conductor: I'm a musicologist, a scholar, leading a baroque ensemble. And as musicologist you have to know that the research process is one thing and that the producing of a recording is something completely different. They run on the same route for a long time, but then, at a certain point, they have different needs. About the recital's program, there were some arias I had to record (the ones with original embellishments) and some others I could choose. Obviously a recording is not a book: so it has to be enjoyable and balanced in the program.
In creating it, Ann Hallenberg, Eva Saladin (our amazing concertmaster) and Andrea Friggi (one of the co-founders of Stile Galante and one of the souls of the orchestra) were fundamental helpers. They are great musicians, and without them the project would have been simply impossible: I really trust their taste, so I proposed arias, we played them or discussed them, and then I made a final choice. Other help came from Rosa Cafiero, teacher at the Catholic University in Milan, and from Holger Schmitt-Hallenberg: I discussed with them my ideas, and their opinions were highly kept in consideration.
The main difficulty in bringing Marchesi's music from my scholarly desk to the recording hall was to find the way to communicate a correct general idea of his singing, taste and aesthetical background to the audience and to my musicians. Obviously, when you bring back to life a score from the 18th century, you have things you know, things you do not know, and things you will never be sure about. For me it's important to keep the ones we know, to find plausible answers for the things we do not know, and to accept an honest compromise for the things we are not sure about. It's a hard balance to find.
How was the experience to work with Ann Hallenberg?
S.A: Simply amazing. Ann is not only an extraordinary artist with a sensible soul and an incredible technical background, but also a really open person who takes suggestions and ideas from the conductor. We worked together immediately on details, with enthusiasm, and having fun; we simply clicked from the first moment. There is a video on YouTube showing the recording session for Mayr's cavatina Oh qual contento: the relaxed, friendly, serene and delightful atmosphere depicted there was real, and Ann was creating it with her smiles and energy.
What was your major concern while conducting this "forgotten" repertoire?
S.A: To help the audience to understand what the composer and his contemporaries wanted to express with that music. We live in an era in which "early music" is raped by continuous misunderstanding and forced to "say" things that are very far away from its essence. We have audiences going crazy for rock 'n roll Vivaldi, or for new age or 'folkloristic' ars nova; we have this fashion of (terrible) falsetto voices to sing in an approximate way (and without any care for the aesthetics of the age) the refined and delicate opera repertoire of the 18th century castrati; we use recorders to 'antiquate' repertoires written before the recorder was ever used, and we have musicians forcing the scores to be slaves of this continuous misunderstanding. We sell fake baroque music, just because there is a market for fake lovers.
This is a dangerous poison for this kind of music, that is, to quote a very famous sentence, "rhetorical music". You need to know this rhetorical system, to understand how it works, to make it enjoyable to the modern listener. It's a difficult task. What I try to do is to take more care of the essence of this music than of my personal taste while being very open and honest with the audience: there are (many) things we know and things we will never know, and these are enough to force us to respect the scores and their historical background, which means: to create communication between the past and the modern ages by respecting the work of the composers.
Would you like to make any acknowledgements?
S.A: I have many acknowledgments, because this project was supported by a lot of people in a variety of ways. The first goes to all the fantastic musicians of the orchestra, to Ann, and to Luca, Federico and Federico (the guys of our office): they all were the real engine of this project. I would love to also thank Gabriella Molina, president of the Marchesi Foundation, for her enthusiasm and help, and Kikko Cornelli, his wife Mara, and their lovely son Lorenzo, main sponsors of the project together with the BCC Bank Carugate and the Fondazione MIA. There are also some more personal acknowledgments I have: Cristina Barnabò, Maria Caraci, Mariagrazia Paloni, Achille Caiani, Holger Schmitt-Hallenberg, Christoph Frommen, Michael Sawall, Carlos Cester, Fabrizio Capitanio and Minjas Zugik. Maybe you will never know why, but they made the recording something really special.
What are your next projects?
S.A: We are planning four recordings for the next three years and discussing the details about them. For the next year I would love to go back to chamber vocal music, especially with projects dedicated to Paolo Rolli and 18th century Neapolitan incidental music, cantatas and an oratorio. But, at the moment, everything is still top secret.
Ann Hallenberg – A modern diva
Ann, you're one of the most important performers of early music. How did you get interested in it?
A.H: Exactly how…It wasn't from the beginning. When I started singing I was interested in the «usual» repertoire as Carmen and other roles like that. I think my interest began in the early 90s. I had sung pieces by Bach and Handel at church as part of the choir, but had never done any solo work in this repertoire. Then suddenly I became interested in this music and got some jobs singing it, and I must confess that I knew nothing about it. After a while, I realized that if I continued singing the usual repertoire, I would always be one step behind the soprano and doing supporting roles, and instead if I sang this music I would have the chance to do many more arias … What's more fun? . And of course, I fell in love with the beat and the Rock and Roll sense of this music.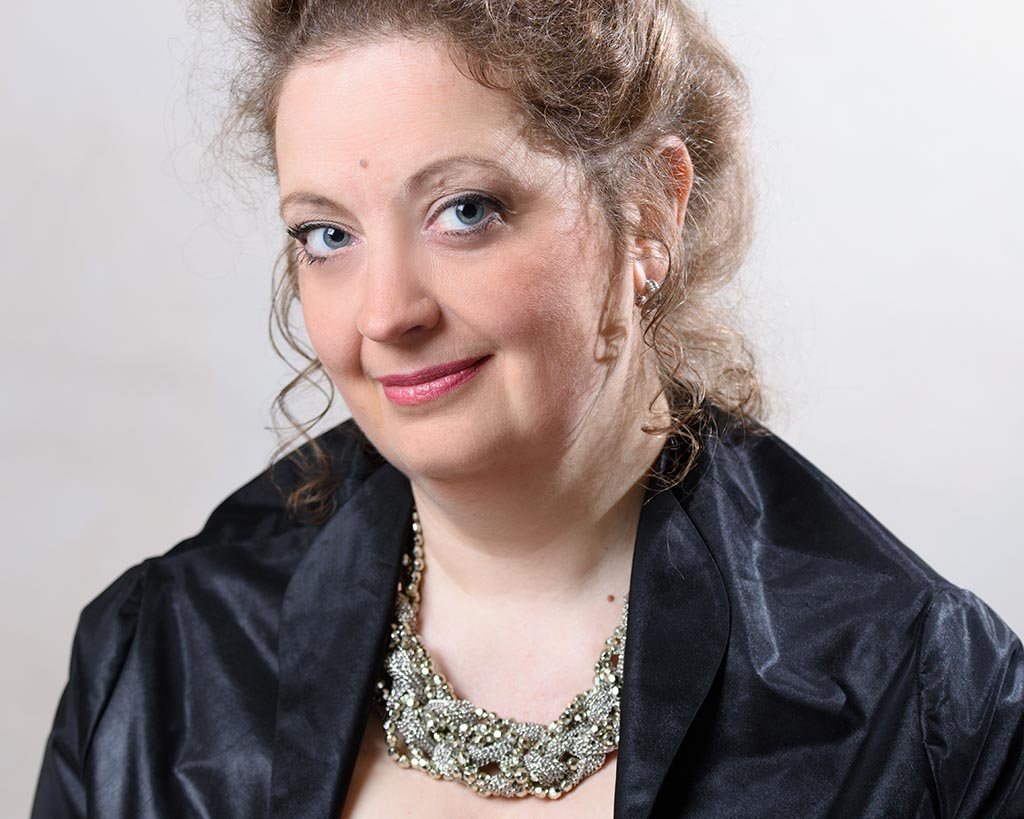 In your opinion, what is the most wonderful thing about this repertoire?
A.H: What often fascinates me when doing a Baroque character is that you have a wide range of emotions in one concert. If you are the hero you don't necessarily have to have a heroic attitude throughout the whole evening. On the contrary, you have a whole spectrum of feelings. Each aria has a different mood; you can have a fury aria, after, a love aria, then an aria that could be more teasing, and thus a wide variety of colors.
Speaking about castrati, you have had the opportunity to sing many characters created for these mythical figures: What is the greatest difficulty you have when singing these characters?
A.H: Without doubts the technical problem. Castrati were monsters, they were constructions, they were not as we are, and that made them capable of doing things that we find very difficult to do; for example, the phrases are very long and the music has a very extreme tessitura (very high and very low notes), so technique becomes very important. Another important thing is that I'm sure their sound must have been beautiful; I am convinced that they (the composers) would not have written music in that way if the result was not a pleasure to the ear. So I focus on trying to make it as beautiful as possible, even if it is also very difficult to sing.
What was your reaction when you were asked to participate in the Marchesi Proyect?
A.H: Well, my first thought was «Marchesi who?» . Sure! We are used to hearing and speaking about the castrati who lived around Handel's time, but we almost never talk about those who lived afterwards. That was new to me. Then, when Stefano sent me the music composed for Marchesi my next reaction was: «Gosh, how am I going to sing this?» Of course, it is very different; it is a different musical ideal than what I'm used to, so I had to inform myself: learning about taste of the time and studying how to perform ornaments, cadenzas and other musical elements. Also, this music is always full of extreme passion; sometimes while studying it I thought, «Ok, this is a little bit too much»; But when I got used to it, I relaxed, had fun and simply went for it.
How was the process of approaching these arias? How did you choose the program?
A.H: The first selection of arias was made by Stefano; who sent me the arias that he would like to have in the program. That was almost three years ago, and I cannot remember if we made any changes. Even though my opinion was taken into account and I had the option to reject any aria in the program, the choices made by Stefano were very good. Now that I remember, I think there was only one with which I was not too sure, but we worked on it and it proved to be a very good decision. So basically, I trusted him and followed his tastes.
How do you prepare yourself before record a recital like this?
A.H: I always work in my house; First, I try to hammer my music on the piano, (I'm not very good pianist) , to learn and understand what I have to do. Then my husband, Holger, helps me if he can and accompanies me on the piano. When you live in the countryside and away from a big city it is difficult to work with a pianist; therefore, when I come to the recording, I must be ready and prepared; so I schedule myself to study well everything that I have to sing.
Is there more pressure when you record a CD than when you doing a concert? How do these experiences differ?
A.H: It's not bigger but it is different. When you record you have the microphone right in front of you, so you don't have worry about projecting in a room with 2000 people, it is not necessary, so you can concentrate on a much smaller space around you, which somehow makes it much easier. The other advantage of recording is that you have the possibility to say «That didn't work, cut it and let's do it again» so you can be more relaxed.
The pressure comes when you consider that what you're doing will be preserved, maybe not forever but for a long time, and many people will hear it. That is the real pressure of recording, and it leads you to want to do the best you can. Personally, in recordings I always try to go beyond what I would dare to do in live performances. I take more risks, because there are fewer factors to worry about. A difficult thing about recording a recital is that you have to sing five days in a row, recording an average of 4 arias each day; therefore, you need to know how to administer your voice in order to survive the process. The first day is ok; you don't get tired; but by the third day fatigue may start to affect you. I learned this in «the hard way», saving the voice is vital to recording.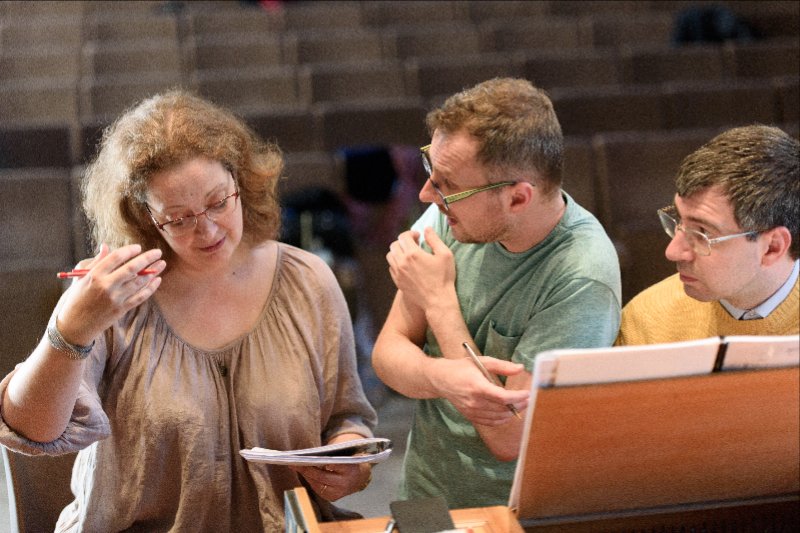 Do you have any favorite arias from this recital? Which were the most difficult to record?
A.H: Not sure about any favorite aria. When recording, it's so hectic that you're simply glad it's over and done with! The two «big» arias: Superbo di me stesso from Cimarosa's L'Olimpiade and Vedo l'abisso orrendo from Sarti's Armida e Rinaldo are hard work to sing, but it was also challenging to perform all the different ornamentation in all the arias; because you need to make them sound natural and effortless!
Ann, you've had the opportunity to work with many conductors and orchestras in your career. In your opinion, what is the basis of a good relationship between a soloist and a director? How was the experience of working with Stefano?
A.H: A singer must be able to work with any director (as long as both people behave), but I think that if the chemistry between them works, if both like each other as people and if both respect the intention of the other about how the music should be done; then the relationship is going to be good. In general, I like working with directors who are performers in the orchestra, as is with Fabio Biondi or as happened with Alan Curtis; they are part of the orchestra as music is played.
Working with Stefano was a completely different experience, because he didn't conduct; he was present and he told us what he wanted and how he wanted things such as tempo, dynamics, etc. That said, he just marked the beginning and let us perform the music. I liked this system. It's different, but I enjoyed it because you have to assume some responsibility to get the music done.
About your experience in singing, do you think that the success of a singer depends on knowing what to sing and when? How do you handle these decisions?
A.H: I totally agree with that. It's something that every singer must know and understand. The voice changes continuously throughout a singer's career, and it will always be like that. I do not sound the same as I sounded a couple of years ago. It would be very unwise to think, «Oh, I'm a mezzo-soprano, therefore I will sing this, this and this.» It doesn't work like that; there is a time to sing a certain repertoire. In my case, I've waited to perform the heaviest symphonic repertoire (like Mahler or Strauss) and now, after 25 years as a singer, I can slowly begin to approach it without hurting.
How hard is the life of always being on tours and spending little time at home?
A.H: It's always hard to be away from those you love. I guess that you must be "done in a special way" in order to be able to deal with being away, being on your own and being alone. If you are not able to handle that, then it doesn't matter how good your voice is, because you'll have troubles being a singer. Of course, you can be a singer if you live in a big city, as happens with many colleagues who live and work in Stockholm. They perform only in that city and divide their careers with teaching or other activities. However, to have this kind of career I have you must be able to deal with these things. Fortunately; I have a very understanding husband and a brave daughter who always support me.
An interesting question: Is there a role or part you would never do or never do again?
A.H: Now that's a new question . I'm not sure, since everyone always asks you for what you would love to do, not what you would never do. As I said, the voice changes with time and I've realized that there are roles that I would not sing again, such as Handel's Orlando, because now I feel it too low for me. Dorabella is a different case, although I have no problem with singing I wouldn't sing it because when you reach to a certain age you will not make a very convincing Dorabella on stage. So I have some reasons to not return to certain roles, but one I really hate…I'm not sure .
In your opinion, what makes a good performer?
A.H: Personally, besides all the technical stuff, there are two things that I focus on and I think everything performer should do as well. First, never forget that we have an audience in front of us. While making a recital it is important to reach the audience, to touch them, to get into them, to never look over their heads but to make eye contact with them. Second, give the audience the texts. Since everything you sing has a text, you have to use it, the rhetoric of the text, the pronunciation, the delivering of the speech, and thus make the audience fall in love, cry and feel all that you say. It is not enough to vocalize; one must understand what is sung.
While you were studying, who was your inspiration?
A.H: First, my teacher: Erik Sædén, he was excellent in that task to transmit the texts to the audience. Also, while studying, it was the operatic breakthrough of Cecilia Bartoli, so she was an important source of inspiration. Finally, being Swedish and being a mezzosoprano, undoubtedly: Anne Sofie von Otter.
What do you prefer: the A=440 Hz or the original pitch in which a work was written?
A.H: I always prefer to have the pitch in which the piece was written. The pitch was once so varied that it could be different from one city to another; the standardization of the pitch is due to a practical problem, not all musicians want to continually re-string and tune their instruments if they play different composers. However, the modern practice of elevate the pitch (even to an A = 443 Hz) sacrifices many things. For example, I think that for the singers there will be roles that will be really difficult to cast: Who will sing Lindoro in Il Barbiere di Siviglia in 443Hz? It is virtually impossible! In addition, we miss hearing certain colors in music by having to take these pieces in pitches that are not the original ones.
What are your future projects?
A.H:  There are many new ideas for recitals; however, everything depends on the sponsors, the recording companies and of course money; but I could say that I'm working on three new projects for the future. I'm moving more towards the symphonic repertoire, such as Mahler, Beethoven….this kind of music. Also, as I am doing less opera (the opera world could be really difficult for a woman my age) I'm turning to Lied and chamber music. It's a repertoire that I love and it's simply fantastic; I think this is the direction that I should move now.
Finally, in a few months you will make a debut in Latin America with a concert in Mexico: How do you feel about that?
A.H: Yes! I'm very excited about it. It's a fascinating culture and a new audience that I'm anxious to meet.